Holistic Business Academy

Resilient & bold. Grounded & irreverent. Visionary & real.

The radical compassion found in the Holistic Business Academy is also relentlessly results-oriented — and this visual identity is crafted to reflect the dance between grit and ease.

The logo combines a monogram inspired by heritage luxury with a simple, understated sans-serif — grounding it in no-bullshit clarity.

The modern utility of black & white is grounded in cool, refreshing neutrals. Bold accents of acid green reflect the thrilling and hopeful dissolution of everything you thought you knew about business — and the fresh shoots of spring.


Rust red is the inevitable corrosion of unsustainable old systems — and a reclaimation of our own power.

Cormorant Garamond is a sharp, modern take on historical forms. Its complement, Epilogue, is a contemporary but practical take on a neutral sans serif.

Rough paper textures and bluntly un-dainty accent icons inspired by the RWS Tarot — subtly referencing both the divine and mundane forces in HBA's approach — remind us that the work is messy, but it is the only way shit gets done.

See It Live (& sign up!) ︎︎︎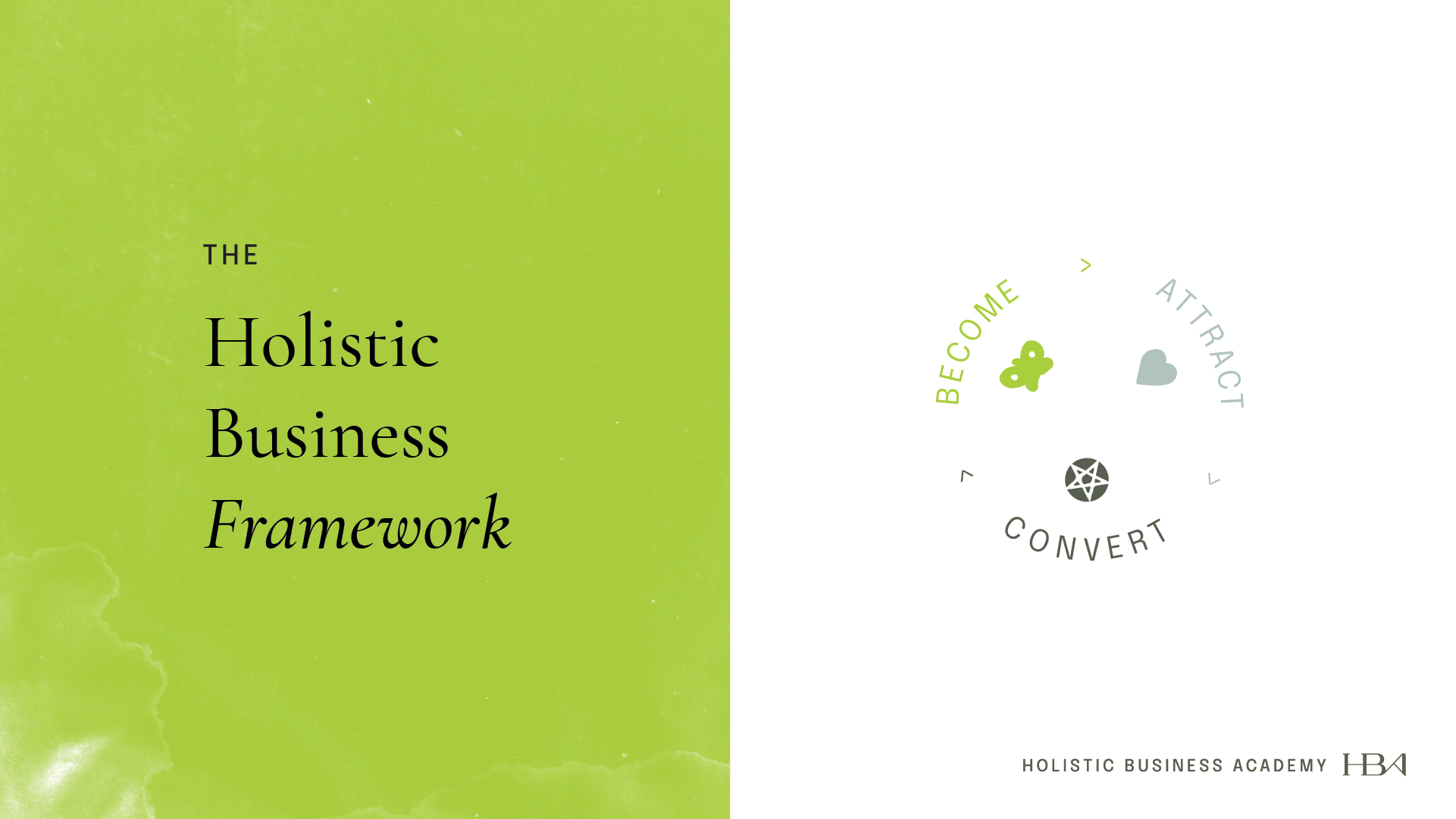 "Working with Sharon on the rebrand of my membership community, the Holistic Business Academy, was a dream. Sharon is a consummate professional and a delight to work with.
Thanks to her branding work, we were able to nearly double the price of my membership while actually increasing sales conversion rates!
Sharon's branding captured the unique proposition that the Holistic Business Academy offers,
helping to let the right customers know that we're a haven, and repelling the people who are not a good fit.
In addition to the sales improvements,
having a clear brand kit and guidelines has made my company's marketing efforts much less stressful.
We no longer have to figure out what to do or what things should look like; we're able to focus on creating quality content knowing that we can lean on Sharon's guidelines to ensure that the brand is clearly communicating our values and our message. I can't wait to work with Sharon again!"
—Sarah M. Chappell, Founder, Holistic Business Academy